Multiple Materials Car Cleaning Kit

Orange Buffing Pads: Medium soft sponge
Used for car shell/tile/wood floor/bathtub cleaning, etc.
Blue polishing pad: soft sponge
For leather sofa/window/glass cleaning, etc.
4-inch white wool pad: very soft
Used for cleaning dust/polishing/cleaning of fragile items, etc.
4-inch scouring pad: gray is a soft pad, green is a stiff pad
Used in the kitchen to wash dishes/clean pots/stoves, etc.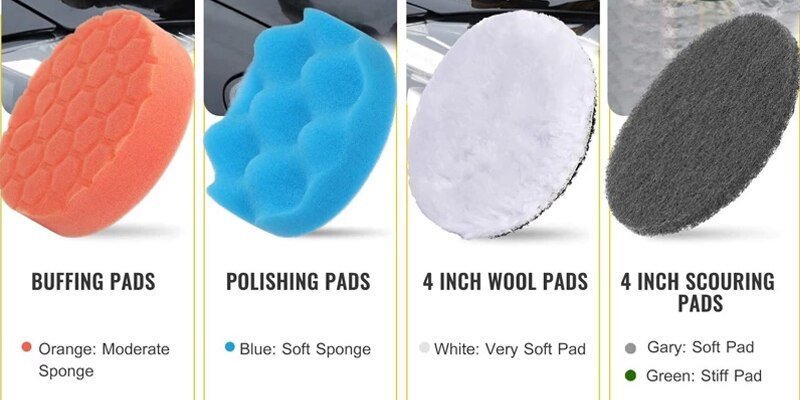 Brushes Of Different Hardness
Car Cleaning Kit comes with a white-white electric drill brush will have a lower hardness, which is more suitable for cleaning carpets, canvas materials, or more rigid leather and other items.
The yellow-yellow electric drill brush has medium hardness and is suitable for most items. Basically, all items can be cleaned with a yellow electric drill brush
The black-black electric drill brush is of high hardness and is suitable for cleaning barbecue grills and steel materials. For those stubborn stains, you can choose a black electric drill brush
Other colors-red and green brushes, moderate hardness, widely used.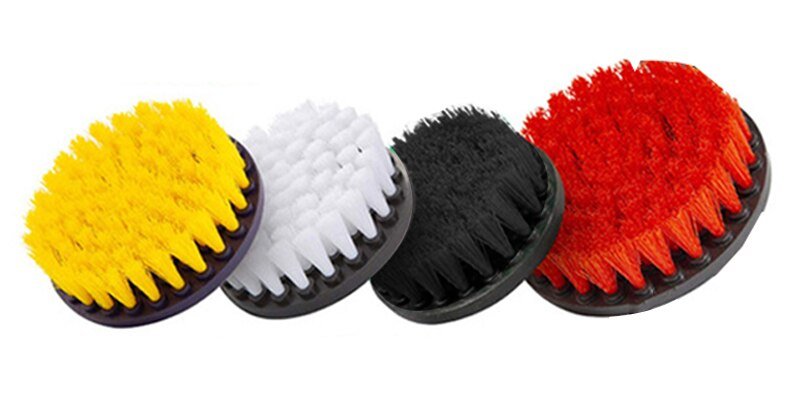 Note:
The product is subject to the actual product received. This shop only sells electric drill cleaning brushes.
All products in the picture do not include electric drills.
(Frequent and excessive use of the electric drill brush will affect the hardness of the electric drill bristles and may be deformed. Although the electric drill brush is Strong reducibility, excessive use will still affect it. But don't worry, In our set of products, there are replacements. One year of normal use is no problem.)
All-Purpose:
These nylon brushes have been expertly designed to clean bathroom surfaces, grout, marble, upholstery, car detailing, wheels, tile, shower, toilet, sinks, swimming pool, and carpet, etc. The scouring pads are great for cleaning the kitchen, oven, cast iron skillet, stove, cooktop, frying pan, pots, and pans. The sponges and wool pads are used for all kinds of coat paints' waxing, polishing, and sealing glaze, to clean and improve their lightness; And for auto car detail polishing.
Time-Saving:
Link the brush to the cordless drill (The brush fits into almost all cordless drills ), turn your ordinary drill into a powerful cleaning tool in seconds, complete deeper cleaning work faster, save time, and spend your time where you need it most. It's definitely a good partner for your home cleaning!
Extended Reach Attachment:
Car Cleaning Kit Allows you to get into tight spaces and hard-to-reach areas for a thorough clean. When you are ready to change out your drill cleaning brush attachment simply pull out our innovative quick-change shafts and easily install a new brush.
Warmly Remind:
We are supporting purchasing, No invoice in the package, directly send to your clients, please kindly rest assured.
Drill Brush Attachment Set Power Scrubber Brush Bathroom Cleaning Kit with Extender Multipurpose Clean for Kitchen Grout